Medium Tour - 15 days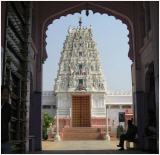 DAY 1, DELHI
Group arrival in Delhi. After checking customs, airport/hotel transfer by private coach. Balance of morning at leisure. Afternoon sightseeing to include Lakshmi Narayan Temple, Raj Ghat - the cremation site of India's founding father - and also included Gandhi memorial museum. Drive by Presidential Palace, Parliament House and India Gate. Dinner at own expense. (B L)
DELHI: HOTEL WESTEND INN or similar (B L)

DAY 2, DELHI - AGRA
After breakfast at hotel proceed for Agra around 8.00 am. On arrival visit the famous Taj Mahal, drive to hotel, checkin and have lunch. This evening walk around the market past Taj Ganj and if possible to see the Taj by moonlight. Evening at leisure. Dinner in city at own expence.
AGRA: HOTEL LAMBA´S HOME STAY (B L)

DAY 3, AGRA, FATEHPUR SIKRI - JAIPUR
After breakfast depart for the pink city of Jaipur via Fatehpur Sikri, Jaipur is the capital of Rajasthan. On arrival at hotel have lunch and rest, later visit the famous façade of the palace of the wind, the Hawa Mahal - the most recognized monument in Jaipur. Proceed to the City Palace, the home of the Rajasthan Royal family. Finely carved doorways and pavilions are magnificent. Also included is the Jantar Mantar Observatory. Dinner at own expense. JAIPUR: HOTEL DERA RAWATSAR or similar (B L)

DAY 4, JAIPUR
After breakfast visit the famous Amber Fort of Jaipur. Enjoy a ride on a richly decorated elephant (depends on availability). Within the Fort are magnificent palaces and pavillions, which are ours to explore. Lunch at local restaurant at own expense. Afternoon enjoy a ride to Sanganeer township near Jaipur to see handblock printet textiles for Sanganeery print. Back to hotel for dinner and rest. JAIPUR: HOTEL DERA RAWATSAR or similar (B D)

DAY 5, JAIPUR - PUSHKAR (150 km)
Today we drive to one of Indias most sacred cities, that of Pushkar. Along our drive we have a short visit to Ajmer, site of Muslim Dargah Sharif of Muin-Ud-Din-Chisti, one of Indias most popular pilgrimage site. Proceed to Pushkar and transfer to hotel. After lunch enjoy a walk around the holy lake of Pushkar. Later we meet at sunset point and enjoy sunset from here where local artisans are participating in their skills for the people. Time for dinner (at own expense).
PUSHKAR: HOTEL THE PUSHKAR BAGH or similar (B L)

DAY 6, PUSHKAR - JODHPUR (215 km)
After breakfast visit an ancient - the only Brahma temple in the world dedicated to Lord Brahma, the creator. Enjoy a pleasant drive through the desert to the city of Jodhpur. After lunch enjoy some free time. Later have a consultation with Dr. Jagdish Pachar Vaidya, Dr. of Ayurveda, and afterwards receive an ayurvedic massage. Dinner at local restaurant (at own expense).
JODHPUR: DURAG NIWAS GUESTHOUSE (B L)

DAY 7, JODHPUR - SETRAWA DESERT VILLAGE (110 km)
This morning we enjoy a ride through the Thar desert to the Setrawa desert village. Enjoy a demonstration of clay building huts of the desert. The outer walls of these huts are embellished with typical thar designs that are unique in this part of Rajasthan. Enjoy lunch in a typical desert village with a host family. Enjoy a short camel safari on the sand dunes to photograph the sunset. After the camel safari see local people preparing a typical dinner especially prepared for us. Sleeping accommodations are provided on the rooftop terrace of the desert camp. Enjoy unbelievable visions of thousands of stars shining above us.
SETRAWA VILLAGE(B L D)

DAY 8, SETRAWA - JAISALMER (200 km)
This morning enjoy a demonstration of the embellishment of the huts which were built the day before. Local women will demonstrate their crafts by using natural dyes to decorate the outer walls and floors of their huts. Later enjoy a drive to the famous old caravan-city of Jaisalmer. After lunch explore ancient old streets and marvel at the beautiful havelis (sandstone carved homes). Proceed to a special organized puppet performance inside the Fort of Jaisalmer. Enjoy dinner at the fort (at own expense)
JAISALMER: HOTEL RANG MAHAL or similar(B L)

DAY 9, JAISALMER
After breakfast visit the ruins of Ludharwa, an ancient citadel of the desert, that includes the remains of Jain temples. Visit the memorial monument of the royal family. Lunch at own expense in Jaisalmer. Walk along ancient narrow streets and view life of the desert. In this magnificent structure we find beautiful Havelis and temples. Visit the museum in the fort with interesting antiques. Balance of evening at leisure. After dinner, transfer to railway station for our overnight train journey to Jodhpur. Sleeping accommodations include a/c will be provided. Departure at 10:30 pm, arriving at Jodhpur at 5:00 am.
JODHPUR: DURAG NIWAS GUESTHOUSE (B D)

DAY 10, JODPHUR
After a leisurely breakfast we travel by horse-cart carriages to a 3 hour Papier-mâché workshop with Mr. Tanveer Ali Abbasi. Participation is strongly suggested. Please return to the guesthouse and learn and participate how our special meal is being prepared. After lunch evening ride by horse-cart carriages to the Clock Tower market and walk among the spice market, cloth market, and perfumers. Taste local Lassi and desserts. Dinner will be offered at Fort Meherangarh (at own expense).
JODPHUR: DURAG NIWAS GUESTHOUSE (B L)

DAY 11, JODHPUR
This morning enjoy a cultural desert excursion to local villages that specialize in making of pottery and weaving. Enjoy a Pottery workshop with a local artisan whose family has perfected this art for centuries. View the various procedures in Weaving of special carpets and shawls. By using natural and artificial dyes, local artisans express themselves in their unique combination of colors and designs. Enjoy the wildlife that is preserved by local Bishnoi villagers and observe an opium ceremony with a local family. Lunch will be provided with a local family. We return to our hotel and balance of day is at leisure. Dinner will be provided at our hotel.
JODHPUR: DURAG NIWAS GUESTHOUSE ( B L D)

DAY 12, JODPHUR
This morning we enjoy a workshop Block printing and screen printing with Chipa A. Rahman Rao and his Nephew Mohd. Iqbal. Then visit Tie and dye procedure at Chippa Rafeek bhai and Mehboob bhai in their home. We will witness the local family factories doing spray printing and powder printing. These families have been specializing in this crafts for centuries. Learn and participate in this 3 hour workshop in these little factories inside the old city. After lunch (at own expense) enjoy embroidery at Abdul
Gani Ustad's factory at Kaga Kangdi part of the town. Balance of day at leisure. Dinner at guesthouse.
JODHPUR: DURAG NIWAS GUESTHOUSE (B D)

DAY 13, JODPHUR
This morning we enjoy our time with the local puppet makers. We will see the making of the puppets and a puppet show. In their home we can see how they are working with puppets for generations. Proceed to lunch (at own expense). In the afternoon do sightseeing at the marvelous Jodhpur Fort Meherangarh, the "citadel of the sun". Later we visit the Heritage Art School wich deasl in Moghul- and Indian Miniatur painting. Return to Hotel for dinner.
JODPHUR: DURAG NIWAS GUESTHOUSE (B D)

DAY 14, JODPHUR - DELHI
Morning visit to Handicraft market for personal shopping. Proceed to Umaid Bhawan Palace the royal residence of the present Maharaja of Jodhpur. Lunch at local restaurant (at own expense). Later we transfer to railway station for our a/c overnight sleeping accommodation train journey back to Delhi. Departing at 7:30 pm by Mandor-Express. Arriving Delhi approx. 6:00 am next day. A box dinner will be provided, consisting a sandwich, hard boiled egg, fruit, sweet and juice. (B D)

DAY 15, DELHI
Upon arrival to Delhi, transfer to a Hotel. After breakfast and rest we will suggest our guest to proceed for sightseeing in Old Delhi. Visit Red Fort, Jama Masjid - the largest mosque in India. Experience one of Indias oldest markets, the Chandni chowk. Visit one of Indias architectural masterpieces, the Lotus Temple (Bahai Temple). Set in a beautiful landscaped garden, this masterpiece is a joy to behold. Lunch, dinner and sightseeing in Delhi at own expense.
DELHI: HOTEL WESTEND INN or similar (Breakfast, accomodation, trainstation- and airport transfer)
End of our services.

AS AN ADDED SERVICE
Information and assistance, free of charge, will be provided for those guests who intend to extend their stays in India.
(c) 2023 Rajput Cultural Adventures in Rajasthan