Jaisalmer
Jaisalmer havelis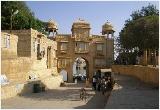 Jaisalmer is world renowned for its magnificently carved latticed havelis with conspicuous facades. The important ones are:

Nathmalji-ki-haveli
Was carved by Lalu and Hathi, two brothers for the Prime Minister of the state, Nathmalji, in the 19th Century. The most interesting fact is that the brothers worked separately one on the right side and the other on the left side; the result is an absolute symphony epitomizing the side-by-side symmetry during construction. The haveli is richly carved and the inner chambers are decorated with miniature paintings.

Patwan-ki-haveli
Is one of the most exquisite buildings in the walled city, which truly exemplifies the architectural style typical of erstwhile Rajputana. It is five storeys high and the extensive corridors and chambers are supported my intricately carved pillars.

Salim Singh-ki-haveli
Is a magnificent five-storied structure, due to its form, dominates the skyline of the walled city. Salim Singh, a powerful chief minister of Maharawal Gaj Singh, built it some 200 years ago. The haveli begins with a narrow dimension below, with an elaborate projecting balcony on the top storey; it is distinguished by the blue cupola roof.
© 2019 Rajput Cultural Adventures - All rights reserved