Thar Desert Tour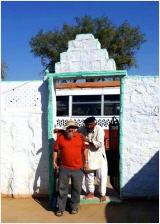 A two days tour which takes you by our car into the desert.

We leave Jodhpur after lunch, get to the village and walk around our house in the desert meeting villagers, see how they live, cook and eat, have tea witnessing sunset, dinner with the neighbors in traditional home.

Next morning after breakfast proceed for camel ride for two hours in the desert, on returning have lunch and visit Setrawa village Sambhali Trust's center, where women are taught basic Hindi, English and sewing to enable them to earn some living. After this leave for Jodhpur.

The lengh of the trip is flexible, just tell us your individual wishes. The following price is for standard tour, all inclusive.
Setrawa tour: 1 night, 2 days, 24 hours desert village tour
including up to 2 hours camel ride on full board
3500 Rs.
(c) 2023 Rajput Cultural Adventures in Rajasthan