Bishnoi Village Tour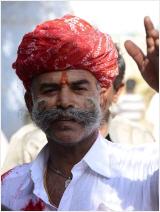 Half a day cultural excursion which takes you around Jodhpur by car.

The driver speaks very good English, knows quite well about the trip and has friendly connection with the villagers. This way we are allowed into the homes of people, the trip is very responsible, we pay quite well to our hosts to allow us into their homes.

After having tea and knowing more on the culture of Bishnoi people in one of the homes at Bishnoi village, we proceed to Chota Guda, here we meet a local artisan who is good in making wool shawls. He is one of a kind left around this area who still works in his traditional home and occupation.

Around this area you will be able to witness black buck antelopes, blue bulls, chinkara deers and wild life preserved by Bishnoi people.

From here you leave for Kankani village to see potter and block printing artists. After spending some time meeting local artisans we go ahead to Salwas village where we have lunch with a local family and see the durry weavers.

The trip departs at 9.00 am and gets back around 2.00 pm.

For more information about the Bishnoi click here.

The lengh of the trip is flexible, just tell us your individual wishes. The following price is for standard tour, all inclusive.
Bishnoi village: half a day cultural tour (8.00 am to 1.00 pm),
including lunch with the local family.
1200 Rs.
(c) 2023 Rajput Cultural Adventures in Rajasthan