Umaid Bhawan
Umaid Bhavan Palace - Maharaja´s residence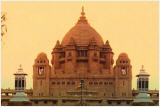 Built by Maharaja Umaid Singh (1929 -1942) and named after him, this exquisite palace is also known as Chittar Palace because of the local chittar sandstone used. It is a splendid example, of Indo-colonial and art deco style of the 30s. A unique feature of this palace is the fact that the hand chiseled sandstone blocks have been put together in a special system of interlocking, there is not mortar binding.

A portion of the palace has been converted into a hotel, the other remains on view to visitors in form of excellent museum which houses model airplanes, weapons, antique clocks and bob watches, priceless crockery, and hunting trophies. Both sections retain the ambience of royal splendor.

Umaid Bhawan Palace can qualify for several firsts: the largest private residence in the world, the finest extant example of art-deco, the only palace to have paintings from the Ramayana painted by a Polish artist, the first to use air-conditioning, electricity and elevators, and the most impressive for its size and dimensions. Yet, that should be hardly strange, for the architect, H.V. Lancaster, who planned it, wanted it to rival the Viceregal Lodge (now Rashtrapati Bhawan) then being planned by Sir Edward Lutyens in the new capital at New Delhi, also then under construction.
© 2019 Rajput Cultural Adventures - All rights reserved