Pottery
Pottery workshop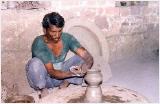 We visit the pottery workshop of the Kumhar tribe people at Kankani village.

Clay is brought from the pond near this Kankani village and then the potter uses it. First of all impurity of clay is taken away by strainer and then wood powder is mixed with it and they make a dome out of it by mixing water to it, then the wheel spins and the dome is placed in the center of the wheel and wheel is moved by a stick. While the wheel is moving potter gives it shape and size, when the product is done on the wheel it is left to dry in sun, after 1 day left in sun the product is kept in the oven for whole night. Next day the product gets ready.

We will see how samples are made and you can participate and try to form something yourself.

© 2019 Rajput Cultural Adventures - All rights reserved