Dargah
Dargah of Muin-Ud-Din-Chisti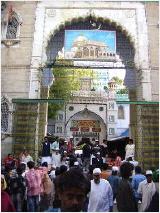 About 135 kilometers southwest of Jaipur is Ajmer, the most sacred of all Muslim places of pilgrimage in India. The revered Sufi saint, Khwaja Muin-ud-din Chisti, who came to Ajmer from Persia in 1192, died in 1236 and was buried here. His tomb, the Dargah is visited by thousands of devout Muslims every year. The shrine was erected by Humayun. The Dargah also has mosques which were built by rulers such as Shah Jahan, Jahangir and Akbar. Akbar used to make a pilgrimage to Ajmer every year from Agra.

The entrance to the complex is from the Dargah Bazaar which leads to the first courtyard. This courtyard has a mosque built by Akbar and two cauldrons known as degs in which donations are made. These donations are later divided among the poor. The saints's tomb is in the centre of the second court. It is enshrined in a domed marble chamber and is surrounded by silver railings. The tomb attracts hundreds of thousands of pilgrims every year on the anniversary of the saint's death, which falls in the seventh month of the lunar calendar. It is also the venue for the famous Urs festival.

In the heart of the city is the tomb of Saint Khwaja Muin-ud-din Chisti, popularly known as Dargah Sharif, it has been since long a pilgrimage and spiritual centre where followers of almost every creed and faith, muslims and non-muslims, come throughout the year, especiallly on the occasion of the annual 'Urs' celebrated from the 1st to 6th day of islamic month of Rajab. The shrine of Khwaja Muin-ud-din Chishti is considered, today, a second Mecca/Medina for the Muslims of South Asia. The enormous gate of the mausoleum leading to the open court was built by Sultan Altatmash (12th century). In the court are two gigantic iron cauldrons donated by the Mughal emperors. On the right is Akbar's Mosque, a simple structure of dignified proportions, made of white marble. On top of the inner gate huge drums are kept in the Naubat Ghar or drum house. The inner gate was donated by a Nawab of Hyderabad. Several tombs are located in the inner enclosure.
© 2019 Rajput Cultural Adventures - All rights reserved