City Palace
Jaipur City Palace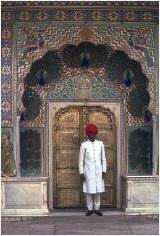 Location: Jaipur, Rajasthan
Houses: Chandra Mahal, Palace Museum, Govind Dev Temple
Architecture: Blend Of Rajasthani And Mughal Architecture
Built by: Jai Singh

The City Palace is an imposing blend of traditional Rajasthani and Mughal art and architec- ture. The City Palace complex houses several palatial structures. In the heart of the old Jaipur city, the City Palace occupies a large area divided into a series of courtyards, gar- dens and buildings. Jai Singh built the outer wall but other additions were made much later, some right up to the start of this century. The former Maharaja still lives in part of the palace. The City Palace sprawls over one-seventh of the area of the walled city. It houses the Chandra Mahal, Shri Govind Dev Temple and the City Palace Museum.

The first building in it, is Mubarak Mahal, built by Maharaja Madho Singh. It has a beautiful carved marble gate with heavy brass doors on either side of this gate. Beyond this gate, lies the 'Diwan-E-Khas' or the 'Hall Of Private Audience' with a marble paved gallery. Across a paved square lies the 'Diwan-E-Am' or the 'Hall Of Public Audience', with its intricate decorations and manuscripts in Persian and Sanskrit. There is also a clock tower and the newer Mubarak Mahal.

To the north-west is the stately and graceful seven-storeyed Chandra Mahal, the residence of ex-ruler. The seven-story Chandra Mahal is the centrepiece and commands fine views of the gardens and the Jaipur city. The complex contains an excellent museum, an armoury and several fine halls. The apartments are maintained in luxurious order and the museum of Maharaja Sawai Man Singh II has an extensive collection of art, carpets, enamelware and old weapons.

The paintings include miniatures in Rajasthani, Mughal and Persian schools. The armoury dating back to the 15th century and many of the ingenious and tricky weapons, which the warrior Rajputs were famous for. A section of museum also contains dresses and costumes of the former Maharajas and Maharanis of Jaipur. Each storey has a distinctive name and is a place of sheer beauty and luxury. Paintings, floral decorations, mirror walls and ceilings in the traditional style adorn the palace. The uppermost storey is called the Mukut Mahal.
Opposite the Chandra Mahal lies the Badal Mahal. The Govind Devji Temple stands in the middle of the Chandra Mahal and the Badal Mahal. A delightful system of mountains is placed in the middle of the paved path between the Chandra Mahal and the Badal Mahal. The palace has extensive and sprawling gardens.
(c) 2023 Rajput Cultural Adventures in Rajasthan