Jaisalmer Fort
Jaisalmer Fort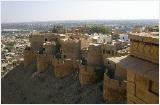 Jaisalmer takes its name from the words Jaisal and Meru, which mean Jaisal's Fort. The fort here ranks among the major ones in Rajasthan and was built around 1156 A.D. Lying on the caravan route bring in spices, silks and dry fruits from as far as Egypt, Persia, Arabia and Central Asia, it was a key-pillar to the region's prosperity.

The Golden Fort or 'Sonar Killa', built of golden yellow sandstone and standing proud to a height of a hundred metres with its 99 bastions, of the Jurassic period on the Trikuta Hill (the triple peaked hill), it grows out of a rock in a undulating sea of sand. The imposing fort is awe-inspiring protected by rugged high walls, approachable through four successive gates, the Akhuiy Pol, Ganesh Pol, Suraj Pol and Hava Pol. The palaces of the rulers built atop the main entrance, form an imposing edifice crowned by a huge umbrella of metal mounted on a stone shaft.

Within the bastions of the citadel are a string of magnificent old Jain Temples, richly carved and decorated, dating back to the 12th-15th centuries, the carvings are inspired from Indian mythology. The main temples are, Chintamani Parswanathji Temple - the most important among the fort Jain temples, the Sri Sambhavnathji temple, Sri Sheetainath temple, Sri Shantinath and many more.

Gyan Bhandar or Library was established as part of the Jain temples, they house some rare and old manuscripts.


© 2019 Rajput Cultural Adventures - All rights reserved