Hawa Mahal
Hawa Mahal - Palace of the winds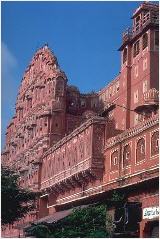 Location: Jaipur, Rajasthan
Built By: Maharaja Sawai Pratap Singh
Unique Feature: Multi Layered Red And Pink Sandstone Building
Houses: Hawa Mahal Museum

Jaipur´s signature building, the Hawa Mahal, a multi layered palace, was built by Sawai Pratap Singh (grand son of Sawai Jai Singh and son of Sawai Madhoo Singh) in 1799 AD and Mr. Lal Chand Usta was the architect. Famous for it's beehive like structure, the Hawa Mahal is an interplay of red and pink sand stone, carefully and painstakingly outlined with white borders and motifs. The palaces and forts of yesteryears, which were witness to the royal processions and splendours are now living monuments, accepted quite naturally into the lifestyle of the people of the "Pink City" Jaipur.

Falling under the Golden Triangle, and being visited by millions of domestic and foreign tourists, the city of Jaipur is a place of high tourist interest.
(c) 2023 Rajput Cultural Adventures in Rajasthan