Jodhpur Fort
Meherangarh Fort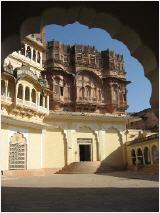 The Meherangarh Fort, situated on a 125 m high hill, is the most impressive and formidable fort in Rajasthan. The construction of the fort was begun by Maharaja Rao Jodha in 1459 and was completed by Maharaja Jaswant Singh (1638-78). The 5-km long fort indeed looks like a formidable structure. The fort houses some marvelously carved panels, latticed windows, magnificent palaces, huge ramparts and the seven gates to guard the fort. The superb collection of palanquins, elephants howdahs, miniature paintings, ancient musical instruments, royal costumes, weaponry, cannons, royal furniture and variety of turbans tied in Rajasthan makes the fort even more interesting.

The fort originally had seven gates (pols). There is a first gate with spikes to prevent attack from elephants. The other gates include the Jayapol, built by Maharaja Man Singh in 1806, following his victory over the armies of Jaipur and Bikaner. The Fatehpol or victory gate was erected by Maharaja Ajit Singh in 1907 to commemorate his victory over the Mughals. The last gate is the Lohapol or iron gate beside which there are 15 handprints, the "sati" marks of widows of Maharaja Man Singh who threw themselves upon his funeral pyre in 1843.

The fort is still run by the Maharaja of Jodhpur. Inside the fort there are a series of courtyards and palaces. Some of these house a collection of folk music instruments, elephant howdahs, miniature paintings, furniture and costumes. At the end of the fort is the Chamunda temple, dedicated to a form of Goddess Durga.
© 2019 Rajput Cultural Adventures - All rights reserved