Amber
Amber Fort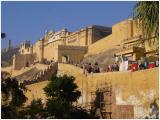 Location: Jaipur, Rajasthan
Built In: 16th Century
Started By: Maharaja Man Singh I

Overlooking the Delhi Jaipur Highway, the image of the Amber Fort is beautifully reflected in the lake below. Within the Amer Fort lies the famous Jai Mandir with its world renowned Sheesh Mahal, a hall full of Mirrors.

The walls and the ceiling of the Mahal are covered with a beautiful array of mirrors, which reflect any streak of light, so as to illuminate the entire room. Located 9 Kms north west of Jaipur, the Amber Fort was once the Capital of the Minas.

(c) 2023 Rajput Cultural Adventures in Rajasthan