Dev Bagh Desert Resort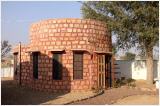 Come and experience a peaceful, relaxing and comfortable stay in a Rajasthani cottage near the village of Setrawa in the Thar desert area. Setrawa is 103km west of Jodhpur and 200km east of Jaisalmer and is a village of 4000 inhabitants. The cottages are situated in a tiny hamlet 7km away, in an area of semi-arid land, predominantly sand and are circular with thatched roofs just as they are built locally.

This is a place for nature-lovers who would perhaps like to take a break during their travels in India. There are always peacocks in the village and camels will roam around the landscape as well as Chinkara deers. You will be able to have an entirely peaceful experience away from the hustle and bustle of the towns, gaze at the wonderful starlit skies at night and feel the tranquillity and calm of this area.

For more information and booking visit Dev Bagh.

© 2021 Rajput Cultural Adventures - All rights reserved